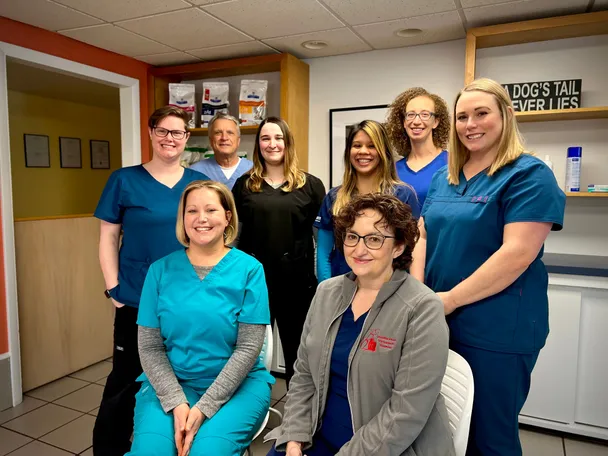 ---
David Wallace, DVM
Years in Practice: 36
Education: Michigan State University - DVM
Dr. David Wallace has been practicing veterinary medicine for over 30 years. He was born and raised in Saginaw, Michigan, and spent two years at Saginaw Valley State University before receiving his Bachelor of Science degree at Central Michigan University in Mt. Pleasant. Dr. Wallace received his Doctor of Veterinary Medicine degree from Michigan State University in 1984. Immediately following graduation, he began practice in Saginaw. In 1986, he opened his own practice on N. Michigan Avenue and in 1996 moved the practice to its' current location on Davenport Avenue in Saginaw.
Dr. Wallace mainly works with dogs and cats although has been known to see an occasional reptile or injured wildlife. He has always enjoyed celebrating the human-animal bond that develops between his clients and their pets. Dr. Wallace has special interests in soft tissue surgery, diagnostic medicine, and cytology. He is a member of the American Veterinary Medical Association, the Michigan Veterinary Association, and the American Heartworm Society.
He and his wife, Heidi, have two children, Sarah and Alex. Sarah is a graduate of Michigan State University and Alex will be a Spartan in the Fall of 2016. David and Heidi also share their home with an adorable Yellow Lab named Firn.
Dr. Wallace enjoys family time, running, and working on his small farm.
---
Danielle Brinker, DVM
Years in Practice: 15
Education: Cornell University - DVM
Dr. Danielle Brinker was born and raised in St. Louis, Missouri. Growing up she cared for a variety of animals from cats to horses to hermit crabs. The daughter of teachers, she was always eager to learn more about taking care of the animals she loved. After earning a Bachelor's of Arts at Grinnell College in Iowa, she attended veterinary school at Cornell University, graduating in 2007. Following a 1 year internship, Dr. Brinker and her husband John moved to Michigan, where she began practicing veterinary medicine. Danielle joined MidMichigan Veterinary Hospital in 2012 and has enjoyed getting to know the clients and their furry families. When not caring for animals, Dr. Brinker enjoys hiking, running, and spending time with her husband, two young children, and amazing cat Bella.
---
Brittiany Wolodkin, DVM cVMA
Education: Michigan State University – DVM, Curacor – cVMA
Dr. Brittiany Wolodkin is a new graduate from Michigan State University College of Veterinary Medicine. She was born and raised in Genesee, Michigan and received Bachelor of Science degree from Alma College in Biology and University of Michigan – Flint in Medical Technology. Dr. Wolodkin received her Doctor of Veterinary Medicine degree from Michigan State University in 2022. While attending Veterinary School Dr. Wolodkin furthered her education by attending Curacors Veterinary Medical Acupuncture certificate program.
Dr. Wolodkin and her spouse share their house with a macaw, two dogs, and two cats. Dr. Wolodkin grew up with many animals, including reptiles, pocket pets, and fish. She has always been eager to give them the best life she could which led her to Veterinary School. When not caring for animals Dr. Wolodkin enjoys hiking, CrossFit, weightlifting, and spending time with friends, pets, and family.